Belly Dance, beloved Belly and beloved Dance
Belly Dance is one of the oldest dances of humanity and its origins are of universal nature. Thousands of years ago women danced for rituals, pregnancy and giving birth, thus celebrating the rhythms of life and its cycles. In the Arabic areas this dance survives from pre-Islamic times, and is now considered a typical feature. Mainly women dance, whether privately in the home or publicly on stage, and traditionally in separate rooms from the men, who also dance in a social context of family festivities. Recently Oriental Dance has won new meaning everywhere in the world as health practitioners and gynecologists, psychologists, orthopedists, and physicians recommend this natural movement for posture and good health. The practice of the dance brings body, mind and spirit back into balance. It allows to feel emotions, improve posture, develop self-esteem, self-confidence, and body-awareness.
The movements of the dance are the total reflection of nature as it flows on and on. There are no rigid movements, but rather a continuous flow of energy centered on and balanced from the navel, our belly button.
Did you know that your neck bends, your shoulders shake, your chest lifts and slides, your ribs circle, your arms make waves, your belly rolls, your spine undulates, your pelvis tilts and twists, your hips sway and swing, your knees rock and your entire body shimmies? And for an example of them all, watch us dance.
Classes
With a biodynamic approach, I teach through a method of muscle isolation synchronized with relaxation, so that every single part of our bodies are found and felt. For women of all ages, also pregnant women.
Classes can be held in your village, school, association. Individual classes by appointment. Dates here or on request.
Classes resume mid September
Address for classes: Danzatelier, L-Saeul
Teacher: "Samira" (artist name)
Oriental Dance Teacher and Performer SBDA, Australia
Biodynamic dance teacher HKiT®
Shows
"Samira, the Magical Belly Dancer" and "Yasmina, the Fireflower", dance for you, beautifully, at your wedding, birthday party, happening, company dinner, fashion show, fun action, exhibition or similar event.
Dances with sword, with cymbals, veils or with candelabra are some of our specialties, as well as Gypsy dances,Tribal style and Hawaiian styles.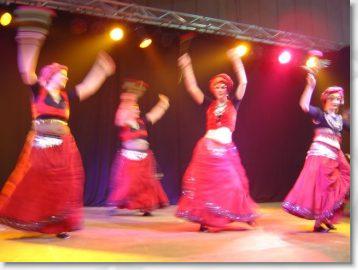 The dance company "Salama Ya Salama" can be booked for shows. Artistic Director and Choreography by: "Samira". The company numbers 1 to 8 dancers and the repertoire includes dances from Classical Oriental and Balady to Tribal, Gypsy and Hawaiian.
Train to become a Belly Dance Teacher
More info on request!